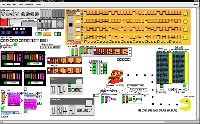 29. April 14h – 01. May 2008 20h, Trojka café in Kunštát, CZ_Brno
Michal Cab (CZ), Jozef Henzl (CZ), open participation
Infocentre MTP Brno
workshop, installation

Lecturers Michail Cabowitz and Jozef Henzl in a three-day workshop, which will introduce participants to the basics of language syntax, sound in pd, and the possibility of processing images using the GEM library.
 

---

hvss/at/seznam.cz - +420 608 665 461 -jabber: j.henzl/at/njs.netlab.cz , icq: 318336096



30. April – 04. May 2008 18h, 13 kubikov, SK_Bratislava
Peter Snadík (SK) (facilitator), Adam Hanuljak (SK) (facilitator), Peter Kotrha (SK) (facilitator), open participation
13 kubikov, Truc sphérique, European Cultural Foundation, theoneminutesJr.org, UNICEF
workshop, screening

Team of lecturers - Peter Snadík, Adam Hanuljak, Peter Kotrha – will go through the whole process of creating a one-minute film, together with young authors. A public presentation of the films created will be on 4.5 at 18:00.

30. April 11h – 02. May 2008 17h, A4 - Zero Space, SK_Bratislava
Open Design Studio, Multiplace 2008, A4 – Associations for contemporary culture
workshop, screening