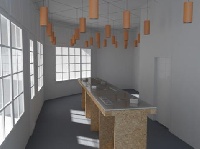 30. April – 01. June 2008, Ciant Gallery, CZ_Prague
rRadim Labuda (SK/CZ) (project author), Darina Alster (production, CIANT), Milan Guštár (CZ) (technical support)
CIANT - International Centre for Art and New Technologies
installation, performance, opening/exhibition

Interactive installation and performance series

Project ADD SOUNDSYSTEM is a sound installation conceived as an
open system and tool for other artists to realize their own sound content. ADD SOUNDSYSTEM can become a space for some form of music production or performance, it can be used as a sound installation or a sonic playground for a workshop. The aim is to create a specific social context, space for encounters, communication and participation. ADD SOUNDSYSTEM oscilates between different types of sound production and perception. It decentralizes the position of musician / performer and obliterates both creative and physical gap between the creator and the audience. Installation is designed to be as transparent, easily understood and operated for any audience member.

ADD SOUNDSYSTEM consists of two basic connected components:
mixing table and suspended loudspeaker grid. The mixing table is a combinatoric matrix constructed from simple electronic elements. It contains five input units and a larger number of output units. Each output unit is a very simple mixer which allows to produce a variable mix of the five inputs fed into the system. Sound producers and audience take their places and operate input and output units according to the current situation (music production, performance, workshop, installation). The most typical would be a situation where the output units are handled by the audience and inputs are taken by the creator/s.

The loudspeaker grid contains number of single loudspeakers which is double the number of output units - as the speakers are in stereo pairs. Each output unit is connected to a pair of speakers. Speakers are suspended under the gallery ceiling and spaced out into an even grid creating a sound field. This situation allows the audience to actively shape the sound field created in the gallery. The perception of the sound composition then depends on the listener's position in space which means that each listener's experience is individual and unique.

Performances by:
Anja Kaufmann
Beseppy
Dan Vlček
Darina Alster
DJ Francois Perrin
Krusha
Martin Janíček
Michal Cabowitz
Michal Mariánek
Rentip
Tomáš Vaněk
Mark Eisler
 

---

rRadim Labuda (born 1976) has studied Faculty of Architecture at Slovak Technical University in Bratislava and Academy of Fine Arts in Prague in the studios of Prof. Miloš Šejn and Prof. Michael Bielický. In 2004 he received a semester exchange at San Francisco Art Institute. In 2005 has become finalist for the Oskár Čepan Award in Slovakia. Graduated in 2006. Since 2004 his work is focused on the medium of video. Exhibited nationally and internationally.

radimradim.org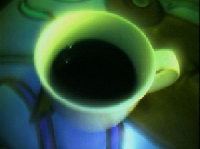 01. May 2008 17h, Trojka café in Kunštát, CZ_Brno
Electronic Cafe Obsessions call
Michal Kindernay (CZ), Lenka Dolanová (CZ), Kateřina Svatoňová (CZ) (café V sedmém nebi/Prague), Jindřich Pavlíček (CZ) (café Cuba Libre/Hradec Králové), Milan Langer (CZ) (collaboration)
Lenka Dolanová a Michal Kindernay, Infocentre MTP Brno
performance, streaming

 
Stream:

rtsp://qt.okno.be:8000/hk_live.sdp
or download streaming player: www.videolan.org/vlc/
 
! Join the IRC chat: multiplace.org/cgi-bin/

"If I can't drink my bowl of coffee three times daily, then in my torment I will shrivel up like a piece of roast goat." (Lieschen, character from J. S. Bach's "The Coffee Cantata")

"Our original idea, back in the 1970s, was to create an electronic, multi- media composite-image space in which people separated by distance, language, values, and culture could come together to collaborate." (Kit Galloway, Sherrie Rabinowitz about "Electronic Cafe International")

Imaginary cafe space compiled from favourite cafes in different cities

Space for communication, collective story-telling or "silent-e-mail" playing

Homage to Kit and Sherrie who knew that networking and coffee go very well together

Cafe at FaVU will be as virtual as election pledges...



01. May 2008 19h, public space, IS_Reykjavík
Chaotic Confluence Commitee
The Lost Horse Gallery
performance, streaming

streaming date :1st 3rd and 4th of May 2008 time : from 19.00

artists: The C C C consist mainly of Monika Frycova, Eva Isleifsdottir and Alexander Zaklynsky. Njosnari . Livia . Nick Fishleigh . Auxpan . Mongoose .
Captain Dean. Halli Kalli and raflost

The Indoor performance will take place the following weekend and will be taped and streamed to Multiplace @ The LOST HORSE Gallery
on May 3rd and 4th between 6 and where? Am.

www.this.is/subaqua
www.frycova.net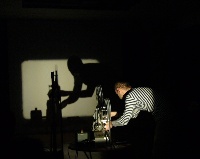 01. May 2008 20h, Stanica Zilina-Zariecie, SK_Zilina
Martin Blažíček (CZ), Ondřej Vavrečka (CZ), Angakok Thoth / Daniel Tóth (SK), Jonatán Pastirčák (SK) (Pjoni)
Truc sphérique
performance, screening

An audiovisual performance by P-P (Pleoplasmus) manipulates old 16mm film and thematizes a projection situation, which primarily involves the space between the projector's lens and the screen. Screening of a film by Martin Blažíček with live music by Angakok/ Pjoni.